DUCK MEAT NATURAL DOG FOOD
Duck based Natural and Raw Dog Food formulas and treats from top brands including Nature's Variety Instinct, Avoderm, Primal Canine, and others.
---
Nature's Variety Instinct Raw Boost Duck Dry Dog Food
The first ever grain-free kibble with freeze dried raw in the same bag. The grain-free kibble provides low carb, high protein nutrition along with freeze dried raw pieces to give your dog a bite-sized boost of healthy raw food. It is a convenient way to nourish your dog with the nutrition of raw. Complete and balanced for all life stages and all breeds. Grain-free and gluten free. No fillers. Provides natural enzymes for digestive health. Essential fatty acids for healthy skin and coat.
---
Primal Canine Raw Frozen Duck Formula
Fresh duck for superior levels of amino and essential fatty acids. Finely ground, fresh duck bones for optimum levels of calcium. Organic produce for food derived vitamins A, B-complex, C and D. Cold water salmon oil for essential Omega-3 fatty acids. Organic & unrefined nutritional supplements for digestion and circulation. Organic coconut oil for linolenic fatty acids.
---
Nature's Variety Instinct Grain-Free Raw Frozen Bites Duck Formula
Grain free. Helps maintain your pet's ideal weight. 95% meat, organs and bone. 5% vegetables, fruits and other produce.
---
Stella & Chewy's Raw Freeze-Dried Dog Duck
100% complete and balanced nutrition that feature raw, USDA-inspected, naturally-raised poultry and meat, organic fruits and vegetables.
---
GO Sensitivity and Shine Duck Dry Dog Food
Go! Natural Duck formula is an elimination diet which limits the number of ingredients while selecting unique and novel protein, carbohydrate and oil sources. Selected ingredients is the first line of defence against allergies and food intolerances. This concentrated formula maximize meat protein and virtually replace less expensive and less digestible vegetable protein in the diet, such as glutens.
---
Merrick Grain Free 96% Real Duck Canned Dog Food
These grain-free, fresh entrees are 96% meat with all the vitamins and minerals your dog needs for complete nutrition. No artificial colors, flavors, preservatives or by-products. Grain-free canned formulas can be served as an excellent topper for dry kibble or a delicious stand alone meal.
---
Canine Caviar Gourmet Canned Dog Food Duck
Enables your pet to have optimum health, resist disease and other major health disorders for a longer healthier life. Our easily digested formulas quickly settle digestive upsets, reduce itching, scratching, shedding and hotspots. In addition, our products address health concerns like kidney, liver and heart disease, diabetes and cancer.
---
Blue Buffalo Wilderness Duck with Sweet Potatoes Adult Dry Dog Food (24 lbs.)
A high-protein, low carbohydrate natural dog food that contains a higher concentration of the delicious duck you know your dog will love. Inspired by the diet of wolves, omnivores with legendary endurance, Blue Wilderness dry dog food is specially formulated by animal nutritionists to provide your dog with a robust, balanced diet that will keep him active and healthy.
---
Wellness Super5Mix Canned Dog Food Case Duck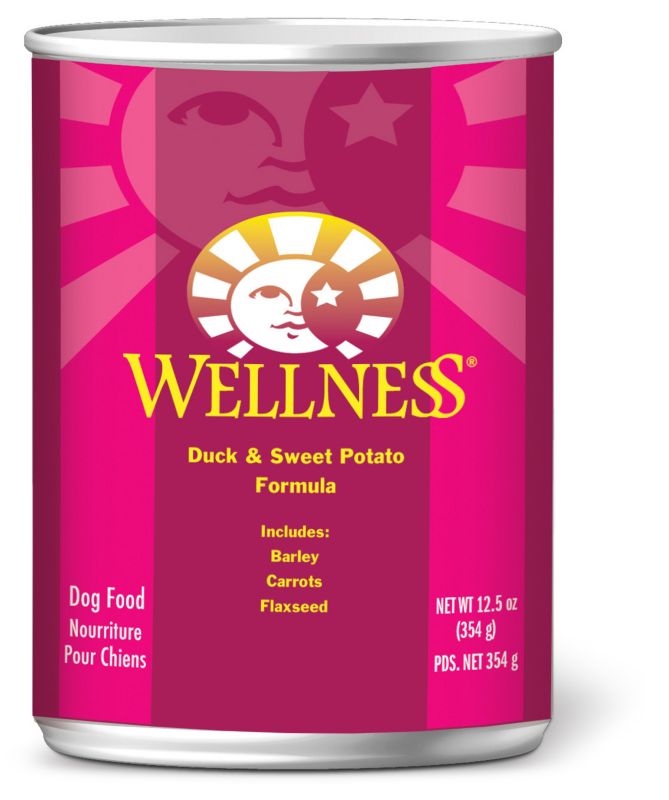 This mix contains sweet potatoes, which are a great source of minerals, vitamins, and beta-carotene, which help in giving your dog a great coat and strong bones. Made from natural ingredients, this formula tastes great and does its job.
---
Acana Duck & Bartlett Pear Dry Dog Food
Made with free-run duck and sun-ripened Bartlett pears from local farms, this nutritious food is natural, fresh and preservative-free—with duck serving as a single-source protein and Alberta oats as a single source of grain. Free of chicken and dairy, Acana Duck and Bartlett Pear Dry Dog Food is the perfect meal for dogs who are diet-sensitive.
---
AvoDerm Revolving Menu Natural Duck Recipe Adult Dog Food, 22 lbs
These recipes were specifically formulated for the option of rotational feeding, so you can feel confident about giving your dog variety. All our formulas provide healthy balanced nutrition for your dog. High-quality ingredients ensure that you are providing the optimum nutrition your dog needs.
---
Precise Holistic Complete Duck Dry Dog Food
This specially made dog food is rich in duck and turkey. It consists of high-quality proteins from unique sources, herbal ingredients, nutritious fruits and vegetables, probiotics, and more. This food is enriched with primary protein and carbohydrate sources of duck, turkey and chicken. With high quality ingredients and a holistic preparation method, your pet will be able to eat his way to good health. This dog food includes probiotics, DHA gold and omega-3 fatty acids. This formula is great for ensuring good digestion and heart health of your pet. It is available in many great flavors like duck and turkey, salmon and potato and tuna and trout. The food is so tasty that your dog will beg you for more and you'll be happy too.
---
Holistic Select Adult Health Duck Recipe Dry Dog Food
A quackin' great meal for adult dogs! Made with high-quality duck meal and plenty of rich fruits and vegetables, this formula tastes superb and your dog will never know how healthy it is! But you will! It features Holistic Select's unique digestive health support system which lets your dog absorb all the nutrients that this meal has to offer!
---
Holistic Select Duck Recipe Canned Dog Food
Contains whole quality grade meats to make it a standout in its crowd of competitors! Holistic Select Duck Recipe Canned Dog Food uses only quality fruits and vegetables with wholesome carbohydrates like oatmeal. Vitamin and mineral fortified making this food a true value that cuts no corners in catering to your dog's health!
---
Back To Basics Instinct Duck Dry Dog Food
The Duck formula has Duck and Chicken Giblets as the number one ingredient. Like other premium sources, they help promote muscle development and are nutrient dense, easily digestible, plus they taste great. Features: Made in the USA High nutritional value Helps develop strong bones Keeps your dog healthy and fit
---
Fromm Gold Duck/Chicken Canned Dog Food
Treat your beloved pet with the Gold Nutritional Duck and Chicken Canned Dog Food Case, which makes use of duck and chicken finely diced and simmered in natural duck broth with carrots, potatoes, and peas. Prebiotics & Probiotics to Aid Digestion. Optimum Omega Fatty Acids Ratio. Fresh duck and chicken. Wholesome goodness of vegetables.
---
Wysong Duck Au Jus
Premium all meat and organ pet foods contain no grains, fillers, synthetic or artificial preservatives. The Au Jus line is 95% meat and organs and is a meal closely matching that which is consumed in a wild carnivorous setting.
---
Natural Balance LIT Dog Treat Duck
A proven formula for dogs with allergies based on a unique single source protein and carbohydrate blend. Regular & small breed sizes.
---
Plato Natural Duck Strips Dog Treat
The perfect treat for dogs with allergies to chicken or other meats. It is made with over 90% duck, making it a high protein treat. High quality natural ingredients, fortified with antioxidant vitamins and zinc, round out the treat. This tasty treat will surely become one of your dog's favorites.
---