HOLISTIC SELECT DOG FOOD
Holistic Select Premium Dry Kibble and Canned Natural Dog Food formulas in a variety of recipes for puppies, adult, and senior dogs.
---
Holistic Select Adult Health Duck Meal Recipe Dry Dog Food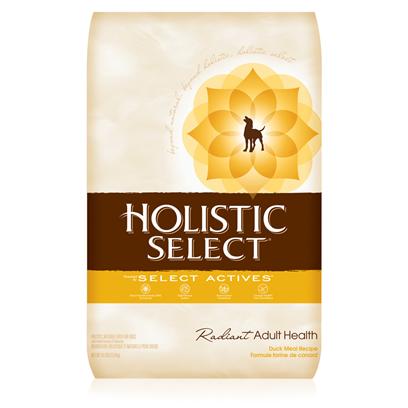 Digestive health is the core of whole-body health. Holistic Select is the only natural pet food that has a complete digestive balance system. Holistic Select dry dog recipes start with concentrated premium proteins, like anchovy and lamb, fruits and vegetables, includes Select Active ingredients and has a Digestive Balance System that work together to optimize nutrient absorption for whole-body health and vitality. The Digestive Balance System includes digestive enzymes and botanicals to breakdown food and aid digestion, prebiotics and probiotics, beneficial ingredients like those found in yogurt and natural fiber to help move waste through the digestive tract.
---
Holistic Select Grain Free Adult & Puppy Health Recipe Dry Dog Food
Grain free fish-based formula. This crunchy kibble is made with a wealth of taste—that would be the salmon, the anchovies and the sardines - and an army of nutrients derived from those very same ingredients; all of which happen to be the first ingredients! Formulated with Holistic Select's Digestive Health Support System. Active probiotics, digestive enzymes and healthy fiber.
---
Holistic Select Adult Health Lamb Meal Recipe Dry Dog Food
It's got all the stuff your dog needs like fruits, veggies and vitamins and minerals. Of course, let's not forget about the lamb! This is a single protein recipe, chocked full of lean lamb with sides of pumpkin, pomegranate and papaya! Not only is it great-tasting but it's made with Holistic Select's unique digestive health support system---which means that every ingredient is absorbed and utilized by your dog! Talk about maximum potential! Not one ounce of Holistic Select Adult Health Lamb Meal Recipe Dry Dog Food will go to waste! Just ask your dog when he/she is done wolfing it down!
---
Holistic Select Senior Health Dry Dog Food
Healthy proteins promotes muscle maintenance. Natural fiber. Glucosamine for joint health. Digestive health support. Nutrient-rich fruits and vegetables like cranberries, pumpkin and peas. Total body health.
---
Holistic Select Adult Health Chicken Meal & Rice Recipe Dry Dog Food
Fill your dog's bowl with something uniquely healthy and delicious! This recipe is filled with tasty proteins, active probiotics and fiber and did we mention the digestive enzymes? These little enzymes help your dog absorb all the nutrients and goodness that this recipe has to offer! So your barking buddy will be getting the most out of every meal! Holistic Select Adult Health Chicken Meal & Rice Recipe Dry Dog Food can put your dog's health on the right track!
---
Holistic Select Chicken Recipe Canned Dog Food
Holistic diet for whole-body health. High-quality protein, whole grains, and vegetables. Supports cardiovascular, endocrine, and immune health. Nutrient-rich broths, no water added. Added vitamins and minerals. No wheat or soy. No artificial flavors, colors, or preservatives. Meets AAFCO nutrition levels for maintenance.
---
Holistic Select Lamb Canned Dog Food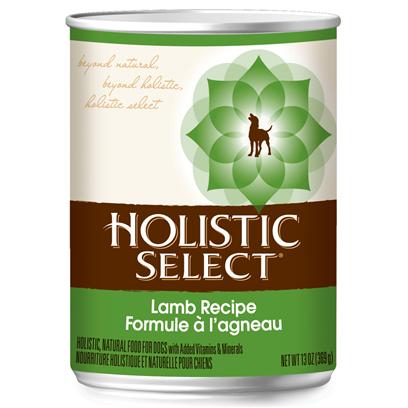 Complete and balanced, with added vitamins and minerals. Our unique canned dog food recipes are made up of premium proteins, wholesome grains and a healthy medley of vegetables, like carrots and peas, and nutrient-rich broths to deliver optimum natural nutrition for daily whole-body health. It also contains gauranteed levels of fiber, prebiotics and probiotics to promote a healthy digestive system.
---
Holistic Select Variety Pack Canned Dog Food
A delicious array of healthy proteins, fiber-rich vegetables, fruits and digestive enzymes that will help your canine absorb and digest all the essential nutrients that Holistic Select provides! This variety pack includes these four great flavors: Chicken Recipe (3 cans), Lamb Recipe (3 cans), Duck and Chicken Recipe (3 cans), Tuna, Salmon, and Shrimp Recipe (3 cans).
---
MORE Holistic Select flavors and formulas for sale online at Pet Food Direct; Save 15-25% when you enroll in Auto Ship! Or use promo coupon code PFDSAVE10 for $10 off any one-time order of $100 or more.
---