LAMB RAW DOG FOOD
Lamb meat-based Natural and Raw Dog Food formulas and treats from top brands including Nature's Variety, Bravo, K9 Natural, and Primal.
---
Primal Canine Raw Frozen Lamb Formula
Fresh lamb for superior levels of amino and essential fatty acids. Finely ground, fresh lamb bones for optimum levels of calcium Organic produce for food derived vitamins A, B-complex, C and D. Cold water salmon oil for essential Omega-3 fatty acids. Organic & unrefined nutritional supplements for digestion and circulation. Organic grapefruit seed extract and vitamin E as antioxidants. Organic coconut oil for linolenic fatty acids.
---
Primal Raw Frozen Lamb Mix Formula
Fresh lamb for superior levels of amino and essential fatty acids. Finely ground, fresh lamb bones for optimum levels of calcium.
---
Bravo Frozen Raw Lamb Blend
Bravo! Original Formula Blends offer the convenience of pre-made blends of pure premium grade meats, organ meats, ground bones and vegetables. All you need to add are a few supplements. Ingredients: Grass-fed, hormone-free lamb breast w/bone, grass-fed, hormone-free lamb organ meat (heart, liver, kidney), zucchini, romaine lettuce, carrots.
---
K9 Natural Freeze-Dried Dog Food Lamb 8.8 lbs
Based on the actual diet of the domestic dog's closest relative, the Grey Wolf, K9 Natural is made with 85% real meat, bone and blood, plus 15% fresh fruit and vegetables, whole eggs, garlic and cod liver oil so you can be sure your dog is getting everything nature knows it needs. K9 Natural doesn't contain any artificial colorings, flavorings or preservatives. There are also absolutely no cooked ingredients because cooking significantly reduces the nutritional value of food.
---
Acana Lamb & Okanagan Apple Dry Dog Food
Made with ranch-raised New Zealand lamb and fresh Red Delicious apples, this nutritious food contains fresh, whole fruits and vegetables, lamb as a single source of meat and Alberta oats as a single source of grain. Acana Lamb and Okanagan Apple Dry Dog Food is the perfect meal for dogs who are diet-sensitive!
---
Blue Buffalo Homestyle Recipe Lamb Dinner Canned Dog Food
Contains only healthy, natural ingredients with hearty whole grains like brown rice and barley which supply the complex carbohydrates that your dog needs for energy. In addition, we include whole carrots, sweet potatoes, blueberries and cranberries...and these are just some of the nutrient-rich fruits and veggies you'll find in our Homestyle Recipes. Accented with garden vegetables and brown rice this will make your dog's mouth water.
---
Canidae Lamb and Rice Canned Formula in Lamb Broth
Daily nutrition for dogs of all life stages. Lamb and brown rice are primary protein sources. Added vitamins and chelated minerals. Omega 3 and 6 fatty acids for healthy skin and coat. High palatability, High digestibility. No wheat, corn, soy, grain fractions, or filler. Naturally preserved. Meets AAFCO nutrition levels for all life stages.
---
Holistic Select Lamb Canned Dog Food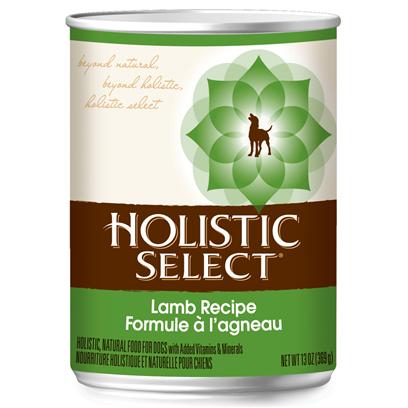 Complete and balanced, with added vitamins and minerals. Our unique canned dog food recipes are made up of premium proteins, wholesome grains and a healthy medley of vegetables, like carrots and peas, and nutrient-rich broths to deliver optimum natural nutrition for daily whole-body health. It also contains gauranteed levels of fiber, prebiotics and probiotics to promote a healthy digestive system.
---
Nature's Variety Instinct Grain-Free Raw Frozen Bites Lamb Formula
Grain free. Helps maintain your pet's ideal weight. 95% meat, organs and bone. 5% vegetables, fruits and other produce.
---
Nature's Variety Raw Lamb Bones
Fresh frozen and vacuum packaged. They are perfect for a special, nutritious treat that satisfies the natural chewing desire of dogs. They also supply additional quality protein, fat, amino acids, vitamins, minerals, as well as a natural source of glucosamine, chondroitin, collagen and calcium for healthier joints and connective tissue.
---
California Naturals GF Lamb
A great option for pets who do better on a limited ingredient diet, 100% lamb meal is used as the single animal protein source, along with peas, potatoes and sunflower oil to supply essential Omega 6 and Omega 3 fatty acids which are so important for the skin and coat health. Lamb Meal is the single animal protein source Contains peas and potatoes for sustained energy Omega-3 and Omega-6 Fatty Acids promote a healthy, shiny coat.
---
Addiction Raw Dehydrated Grain-Free Dog Food, Herbed Lamb & Potatoes
The formula is simple: Goodness of Raw + Convenience of Dry = Addiction's Raw Dehydrated Food. A hearty, aromatic meal to satisfy the most discerning dog - lamb with fragrant Rosemary and Thyme. Free-range New Zealand lamb, free of artificial hormones and steroids, low in saturated fat. Grain-Free recipe ideal for sensitive dogs.
---
Nutro Grain Free Lamb and Potato Dry Kibble
For adult dogs of all breeds. Grains and proteins can aggravate food sensitivities in some dogs. Natural Choice Grain Free Formula provides a gluten-free, grain free and limited ingredient diet formula to help reduce the likelihood of food sensitivity. Pasture-fed Australian and New Zealand lamb is the single, novel animal protein. This natural dog food formula contains no corn meal, wheat or soy protein. Patented levels of Omega 6 Fatty Acid, Zinc and B vitamins guarantee healthy skin and a soft, shiny coat.
---
Nutro Max Lamb and Rice Dry Dog Food
This formula contains rice, so it is easy on your dog's stomach. Real Australian and New Zealand lamb protein will give your dog, strong muscles, and increase its immunity. What's more, it also contains L-Carnitine, an amino acid that helps your dog metabolize fat and maintain a healthy heart. Perfect for active, adult dogs.
---
Halo Spot's Stew for Dogs Wholesome Lamb Recipe Canned Dog Food
All natural food made with only the freshest human-grade quality ingredients. Contains USDA-approved lamb and vegetables. Promotes great, glowing health. Your pets will enjoy the most delicious, wholesome, high quality food to hit the face of the planet! Holistic veterinarians agree there's nothing better than a balanced, homemade diet, so let Halo's gourmet chefs do all the work and you can take all the credit for the healthiest pets in the world!
---