SALMON NATURAL DOG FOOD
Salmon meat-based Natural and Raw Dog Food formulas from top brands including Halo Spots, Avoderm, Bravo, NRG, Eukanuba, Canidae, and others.
---
NRG Maxim Grain-less Salmon & Vegetables Dehydrated Raw Dog Food
Dehydrated meal for dogs; add water, mix and serve. Fresh ingredients. Grain-less. No inorganic vitamins and minerals. All-natural. Free-range salmon. Balanced nutrition.
---
NRG Vitality Salmon Formula Dehydrated Raw Dog Food
The oats are naked in NRG Vitality! But that's okay because naked oats are good—that means they're providing your small/toy breed dog with natural vitamins, minerals and enzymes! With salmon serving as the first ingredient followed by an army of raw, dehydrated fruits and vegetables, this recipe is a health nut's dream, especially if your health nut is a canine!
---
Bravo! Boneless Formula Salmon Raw Food
Bravo Premium boneless meats come in five popular protein types that let you fully customize a raw diet. Simply add the supplements and other ingredients you want to feed your pet. Boneless North Atlantic salmon comes in 1 pound frozen tubes.
---
AvoDerm Grain Free Salmon & Potato Stew Recipe Canned Dog Food
Grain Free Canned Dog Food offers irresistible taste with hearty pieces of real vegetables. Provides your dog quality ingredients with no added wheat or corn. This grain free canned dog food provides quality protein sources that are ideal for dogs with sensitivities to other protein sources. These quality ingredients provide healthy, balanced levels of protein, fat and nutrients for both puppies and adult dogs. Our foods are naturally preserved with mixed tocopherols (a natural preservative and source of vitamin C) to ensure freshness and palatability. Antioxidant nutrients help support a strong and healthy immune system. Omega 6 and 3 fatty acids promote healthy skin and a glowing coat.
---
Halo Spots Stew Adult Salmon Dry Dog Food
Food Halo's holistic approach to dog care is based on treating the "whole animal," using pure, natural ingredients in optimum formulation to stimulate the body's ability to heal and maintain itself. The result is a happier, healthier dog — inside and out.
---
Ultramix Grain Free Salmon Adult Dry Dog Food
If your dog suffers from allergies or is sensitive to poultry, Ultramix Grain Free Salmon Adult Dry Dog Food is the perfect diet for your pet. There are whole pieces of fruits and veggies in the food. This recipe consists of natural salmon, followed by other fish-based protein sources for optimal nutrition and great taste. Real pieces of minimally processed fruits and vegetables provide a natural source of antioxidants, vitamins, and fiber. There are plenty of other powerful benefits like Omega 3 and 6 Fatty Acids that contribute to healthy skin and a luxurious coat. The food also brings a balanced Calcium to Phosphorous ratio that helps promote healthy bones and teeth of your pet. Natural Ultramix Adult Dog Food is perfectly natural and contains no artificial colors or preservatives, and no corn, wheat or soy. The food is easily digestible and will rejuvenate your pet.
---
Blue Buffalo Basics Dog Biscuits Salmon/Potatoes
Oven-baked for crunchy goodness, Basics Biscuits have either Turkey or Salmon as their first ingredient. Delicious and nutritious, these items are not commonly used in dog food or treats, which makes them ideal protein sources for dogs with food sensitivities.
---
ROTATIONS Dry Dog Food Wild Salmon & Peas Recipe
Our recipes contain NO by-products or fillers like corn, wheat, alfalfa or soy and are all natural with NO artificial flavors, colors or preservatives. All ROTATIONS Dog Food recipes are holistic and nutritionally complete to ensure that whether you choose to feed only one recipe or rotate through all of our recipes, your dog is getting the very best.
---
Wellness CORE Salmon, Whitefish & Herring Canned Dog Food
A more thoughtful alternative to grain-free diets in the marketplace delivering the meat content consumers are looking for, without the excess fat, calories or minerals their dog doesn't need. Carefully controlling the levels of fat, calories and minerals supports the most important part of an animal...the CORE and allows the pet parent to safely feed everyday. Great for dogs of all lifestyles: for working and highly active dogs or dogs with a more sedentary lifestyle. No meat By-products, no wheat or wheat gluten, no soy, no dairy, no corn, no artificial colors, flavors or preservatives. Premium meat provides the all natural mouth-watering taste that dogs love. Herbs, botanicals, fruits and greens provide phyto-chemicals, micro-nutrients and antioxidants.
---
Pro Plan Sensitive Skin & Stomach Salmon & Rice Canned Dog Food
Complete and balanced nutrition formulated for easy digestion and to help reduce the risk of food sensitivities.Real salmon is the #1 ingredient.Packaged in easy-open flip-top cans.
---
Blue Buffalo Basic Salmon/Potato Dry Dog Food
For dogs that show signs of being sensitive to some of the ingredients used in traditional pet foods, less may be more. BLUE Basics Limited Ingredients Formula Dry Dog Food is a healthy, holistic, limited-ingredient diet formulated to minimize food sensitivities while maximizing the nutritional value that your dog will receive. The Blue Basics Salmon and Potato Dry Dog Food makes use of salmon, potatoes, rice and oatmeal with veggies, fruit and micronutrients for ease in digestion and to maintain an active life.
---
Canidae GF Pure Sea Salmon Can Dog Food Case
This formula provides high quality Salmon as the main protein source. This formula is great for working breeds or dogs with high energy requirements. 95% of the total protein is derived from fish, 5% from vegetables and fruits and 0% grains.
---
Canidae Grain Free Pure Sea with Salmon Meal Dry Dog Food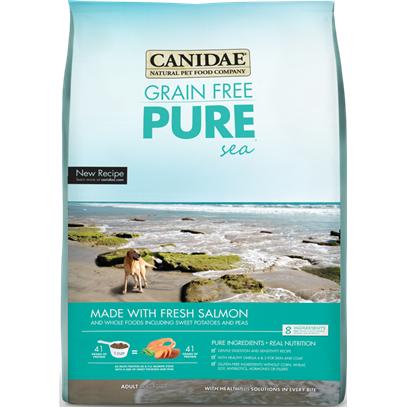 All natural dog food that focuses on primal nutrition, with the benefit of quality ingredients. This high protein, easily digestible formula comes with essential vitamins, amino acids, chelated minerals, naturally preserved herbal formulation, balanced Omega 6 and 3 fatty acids, and DHA. Candide Grain Free Pure SEA Dry Dog Food is just what your high energy dog needs to keep up.
---
Eukanuba Naturally Wild North Atlantic Salmon & Rice Adult Dry Dog Food
Drawing inspiration from this eons-old food chain, Eukanuba created North Atlantic Salmon and Rice formula, a natural dog food with vitamins and minerals featuring 100% Salmon as the number 1 ingredient - how Mother Nature intended. She'd also approve of the fact that it includes no corn. Instead, Eukanuba adds amino acids and vitamin E, plus rice as a healthy carbohydrate source that is easy to digest. Natural FOS (fructooligosaccharides) works in your dog's digestive tract to support strong defenses. Natural fish oil provides omega-3 fatty acids for healthy skin and coat. These nutrients also help support the immune system.The Eukanuba 3D DentaDefense kibbles brush teeth reducing plaque, and they have micro-cleansing crysals to reduce tartar build-up... keeping teeth healthy.
---
California Naturals Grain-Free Salmon Dog Food
Carefully made with ingredients that are specifically selected to be tasty, easy to digest, nutrient-rich and grain free. Salmon meal is used as the single animal protein source. Peas and lentils provide unique carbohydrate sources with low glycemic indexes, along with sunflower oil and flaxseed which supply essential omega-3 and omega-6 fatty acids for skin and coat health. The formula is grain free and potato free, making it a great option for pets who do better on a limited ingredient diet.
---
Fromm Four-Star Nutritionals Grain Free Salmon Tunalini Dry Dog Food
Your dog can enjoy the delicious blend of wild salmon and tuna! Thrown together with an array of healthy vegetables and fruits like spinach, zucchini, egglant and olive oil, this dry food is a tasty, grain-free feast that's filled with viable probiotics and prebiotics, Omega fatty acids and added cartilage to support joint health.
---
Blue Buffalo Wilderness Salmon Adult Dry Dog Food
This tasty natural dog food is a high-protein, low-carbohydrate blend formulated with concentrated nutrients to support your dog's active lifestyle. Inspired by wolves' omnivorous diet, Blue Wilderness dry dog food features ingredients of superior quality selected by animal nutritionists. The majority of the essential protein that fuels this high performance diet comes from deboned salmon, fish meal and chicken meal. In addition to supplying protein, salmon is an excellent source of Omega-3 fatty acids that help your dog's growth, skin and coat, and development. Complex carbohydrates come from select carb-rich ingredients like whole sweet potatoes. Cranberries, blueberries and whole carrots support antioxidant enrichment. These ingredients and many more form a sensible alternative to raw diets; no additional supplements are required because this natural dog food is nutritionally complete.
---
Taste of the Wild Pacific Stream Smoked Salmon Formula Canned Dog Food
Will satisfy your pet's taste for wet food. This complete and balanced formula can also be your pet's sole diet. Contains fresh salmon and smoked salmon, wild caught, perfect sources of omega-3 fatty acids. Sweet potatoes, blueberries and raspberries are great sources of natural antioxidants for a healthy lifestyle.
---
Taste of the Wild Pacific Stream Canine Formula with Smoked Salmon Dry Dog Food
A fish protein, grain-free formula with sweet potatoes providing highly digestible energy for your sensitive dog. Made with real smoked salmon, this formula offers a taste sensation like no other. Supplemented with fruits and vegetables, and rich in omega-3 and omega-6 fatty acids, this food for all life stages supports a healthy immune system, healthy skin, shiny coat, and overall good health.
---